ARPneuro Therapy in Carlsbad CA

ARPneuro Therapy in Carlsbad CA decreases chronic pain, increases range of motion, accelerates recovery time and improves physical performance.
Reduce Pain. ARPneuro Therapy reduces pain consistently 60-80% faster than traditional chiropractic or physical therapy.
Accelerate Recovery. While typical rehab for many injuries is timed in months, recovery with ARPneuro Therapy is measured in days.
Strengthen Muscles. Trains muscles to absorb force instead of passing it on to joints, ligaments, tendons, knees, back, or hips.
Treat the Source. ARPneuro Therapy finds and treats the source of pain, where it originated, and eliminates the physiological pain.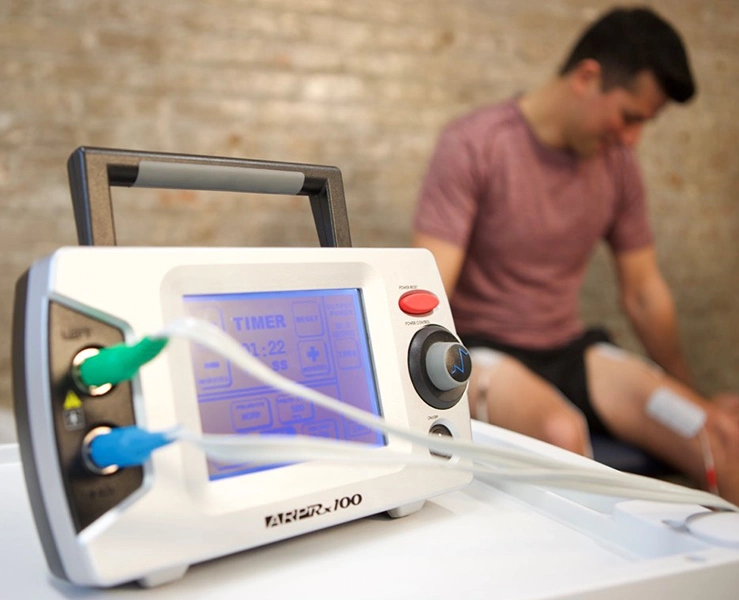 ---
What is ARPneuro Therapy in Carlsbad CA?
Accelerated Recovery & Performance
ARPneuro Therapy uses electrical stimulation to safely send direct current electrical signals to the source of pain.
The therapy stimulates soft tissue and increases blood flow to the source of pain.
It then creates new neuro patterns to retrain brain to body communication so that future force is correctly absorbed by muscles – not joints, ligaments, or tendons.
---
What Conditions Can Be Treated with ARPneuro Therapy?
ARPneuro Therapy is extremely versatile whether you are preparing for surgery, recovering from surgery, seeking to avoid surgery, or seeking pain relief from a chronic condition.
Some of the most common conditions include:
Bone on Bone Osteoarthritis
Carpal Tunnel Syndrome
Chronic Pain
Concussions
Connective Tissue Disorders
Core Weakness
Deep Hip Flexor Dysfunction
Ehlers-Danlos Syndrome
Fibromyalgia
Headaches or Migraines
Inflammatory Arthritis
Inflamed Bursa
Joint Replacement Surgery
Limited Range of Motion
Multiple Sclerosis
Neurological Diseases
Neuropathy
Orthopedic Surgery
Plantar Fasciitis
Post Stroke Conditions
Rotator Cuff Inflammation
Spinal Cord Injury
Spinal Disc Degeneration
Spinal Fusion Surgery
Sprain, Strains, & Tears of
Knee, Ankle, Wrist, Elbow, or Spine
Sciatica
Scoliosis
Tendonitis
TMJ
Whiplash
---
Testimonials
Pro Base Jumper Sean Chuma Uses ARPneuro to train for 7X World Tour
From Injury to Strength: Andrea Mattison's Inspiring Journey
Scott Poe uses ARPneuro PRS for strength training & chronic pain relief
Jeff Emery finds relief from Shoulder Pain after ARPneuro Therapy
NPC Bikini Competitor, Julianne Galante, uses ARPneuro Therapy to Build Lean Mass
Monday
8:00am - 6:00pm
---
Tuesday
8:00am - 6:00pm
---
Wednesday
8:00am - 6:00pm
---
Thursday
2:00pm - 6:00pm
---
Friday
8:00am - 1:00pm
---
Saturday
Closed
Carlsbad Chiropractic and Integrative Wellness
2745 Jefferson Street Suite A
Carlsbad, CA 92008
(760) 434-9454